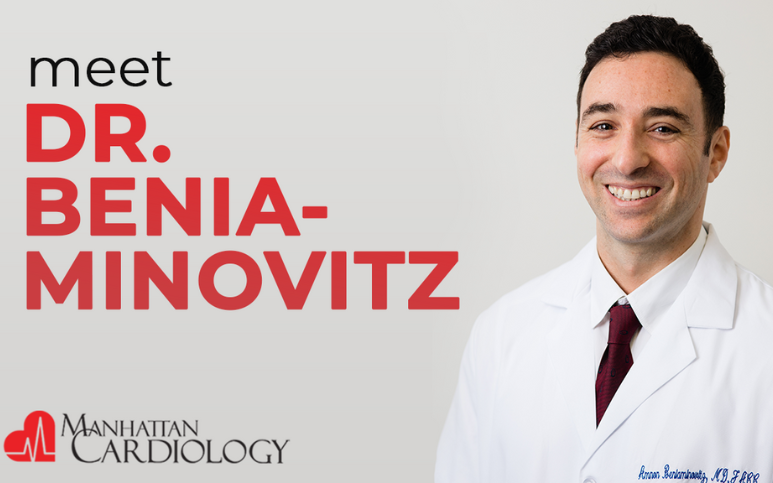 "Amnon (Ami) Beniaminovitz, MD, FACC, FASE, CBNC, RPVI is a multi board-certified cardiologist, with a special focus on cardiovascular diseases, imaging, and nuclear cardiology. His credentials include board certifications in Nuclear Cardiology by the American Society of Nuclear Cardiology (ASNC), Echocardiography and Stress Echocardiography by the National Board of Echocardiography (NBE) as a Registered Physician for Vascular Interpretation (RPVI) and by the American Registry for Diagnostic Medical Sonography (ARDMS).
After earning a bachelor's degree from New York University, he went on to complete his medical school training and fellowship at the Icahn School of Medicine at Mount Sinai Beth Israel and his residency at Montefiore Medical Center.
Transcription:
My name is Dr. Ami Beniaminovitz, or Ami, or Dr. Ami, Dr. B. I'm a cardiologist here at Manhattan Cardiology.
I'm board-certified in echo, vascular, nuclear, internal medicine, as well as cardiology. I'm active in the American College of Cardiology, or ACC primarily. Back in the day, when I was a fellow, I did research on obesity and the way obesity interacts with cardiovascular disease.
Cardiology's an amazing field. It's dynamic, where you can actually make interventions and you can actually really help them live healthy and good lives while preventing disease and mortality or death.
I'm a New Yorker. I'm a native New Yorker, so I know about New York. I understand New Yorkers. I've lived here all my life. I grew with Queens, lived in every borough, except for Staten Island. [inaudible 00:00:49] Staten Island. That's what I really enjoy, just taking care of people that I connect with and that I can really help.
I'm a very avid runner. I like to run. I like to do half marathons. I like to play music. I like to read. I love to read research as much as I can in terms of cardiology.
What I like about Manhattan Cardiology is my ability to pick ownership of my patients, help them, help change the trajectory of their disease, and really help them live very healthy and meaningful life."