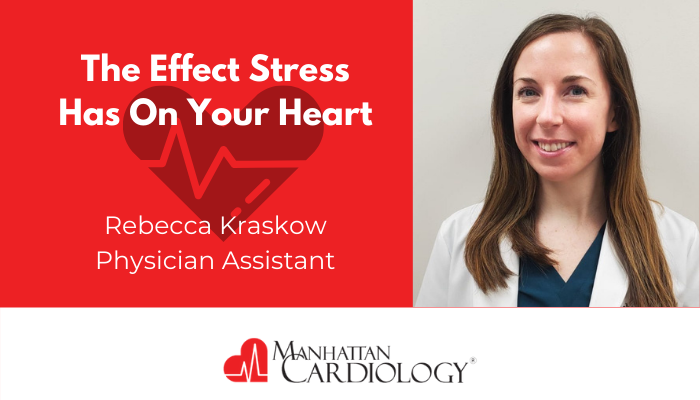 Our Physician Assistant, Rebecca Kraskow, discusses the effects stress has on your heart.
What effect does stress have on your heart?
If you've been unusually stressed out lately, you're certainly not alone. With the events of the past year, it's completely understandable to be feeling a little bit more frazzled than usual. However, it is important to find ways to mitigate your stress levels, and not just for the sake of your mental health. Too much stress can be detrimental to your heart health. It has been shown to increase your blood pressure and heart rate, causing your heart to work harder. It has also been tied to lack of sleep, not getting enough exercise, and craving comfort foods that can negatively affect the circulatory system.
What long-term effects can stress have on your heart?
Chronic stress can have a very negative long-term effect on your heart and cardiovascular system. Elevated blood pressure and heart rate over time doesn't just cause your heart to work harder – it may result in physical changes to the structure of your heart. In extreme cases, stress can produce stress cardiomyopathy (also called takotsubo cardiomyopathy, or "broken heart syndrome").
What kind of testing can be done to measure the effect of stress on your heart? How often should this testing be done if I have a high stress level?
We recommend getting an annual echocardiogram of the heart in order to assess for any structural changes. Your provider may also want to perform a cardiac stress test to evaluate how your heart copes with peak demand. It is always important to seek care if you begin experiencing any symptoms such as chest pain, trouble breathing, or fainting.
What can be done to reduce your stress levels?
Finding ways to reduce stress is critical to your heart health, as well as your overall well-being. Useful tools for reducing stress include getting regular sleep and aerobic exercise, eating a heart-healthy diet, and practicing mindfulness meditation.
---
With heart disease as with so many other health conditions, preventive care is extremely important. It is imperative that you get regular checkups in order to know your level of risk for heart disease and potentially dangerous cardiovascular events like a heart attack or stroke. Manhattan Cardiology offers a variety of cardiovascular screenings including heart screenings and exercise stress tests, as well as screenings for stroke and cholesterol. Don't hesitate to schedule an appointment so that you can take control of your cardiovascular health!