What Is Sudden Cardiac Death?
Sudden Cardiac Death (SCD) is an unexpected death that occurs as a result of malfunctioning in the heart's electrical system. Death occurs within an hour of the onset of symptoms. These symptoms can result from heart disease which could be known or unknown prior to the SCD.
SCD results from abnormal heart rhythms. The most dangerous and deadly abnormal heart rhythm is ventricular fibrillation that leads to complete pump failure or the inability of the heart to supply the rest of the body.
According to a report by the American Heart Association, SCD is the leading cause of death in the U.S., claiming more than 353,000 lives in 2014. This represents about half of all deaths caused by heart disease in the United States.
Is Sudden Cardiac Death The Same As A Heart Attack?
While a previous heart attack (myocardial infarction) can increase your risk of Sudden Cardiac Death, the two conditions are distinct from one another. While a heart attack is a malfunction of the heart muscle caused by a sudden blockage in the coronary artery, SCD is caused by an electrical disturbance.
However, any untreated or delayed treat heart attack can deteriorate into SCD. SCD can also occur in patients who have previously had a heart attack, or patients with certain abnormal congenital heart conditions like, hypertrophic cardiomyopathy or arrhythmogenic right ventricular cardiomyopathy, or patients with genetic abnormalities in the electrical system of the heart.
What Are The Causes Of Cardiac Arrest?
Causes and risk factors for Sudden Cardiac Death include:
Heart Attacks
Coronary Artery Disease
Enlarged Heart
Valvular heart disease
Congenital heart disease
Electrical problems with the heart.
What Are The Signs And Symptoms Of Sudden Cardiac Death?
The signs of Sudden Cardiac Death are immediate hence the name "sudden" however there may be predisposing symptoms one might be able to recognize such as;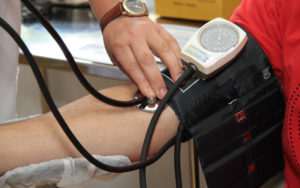 ​
Chest pain or discomfort.
Heart palpitations.
Rapid or irregular heartbeats.
Unexplained wheezing.
Shortness of breath.
Fainting or near fainting.
Lightheadedness or dizziness.
What Are The Risk Factors Of SCD?
There are varied causes of SCD. Most commonly, it results from Coronary Artery Disease (CAD). People with a history of heart attacks and structural heart disease are at a higher risk of suffering an SCD.
People with a history of structural heart disease and heart failure not related to CAD also have an increased risk of SCD.
Other genetic causes of SCD include Long QT syndrome, short QT syndrome, Brugada syndrome, idiopathic familial syndromes and catecholaminergic polymorphic VT syndrome. Some people may also experience a VF that is the result of an acute heart attack.
How Is Cardiac Arrest Diagnosed?
Because cardiac arrest is so fatal, it's important to know what causes it in the first place and have regular SCD screenings.
New diagnostic technology, such as heart monitors, genetic testing can predict those who are at risk of life-threatening ventricular arrhythmias that can cause SCD.
Screening for preventing heart attacks and heart failure with routine cardiovascular exams with EKG and echocardiograms are paramount to screen for and prevent SCD
At Manhattan Cardiology, one of the very first tests we conduct is an EKG and an Echocardiogram to determine that the heart is structurally and electrically normal and is pumping as it should.
What Are The Possible Treatments For Sudden Cardiac Death?
The immediate treatment for Sudden Cardiac Death would be Cardiopulmonary Resuscitation (CPR). Chest compressions should be properly performed with alternating members who are certified to prevent fatigue.
In addition to CPR, the most effective treatment for Sudden Cardiac Death is to defibrillate with a nearby AED. Antiarrhythmic medications should be given to prevent arrhythmias.
Once a pulse is observed and noted, CPR can be halted and the patient must be taken in for cardiac imaging to identify the cause of the sudden cardiac death. If the cause is due to a myocardial infarction then a coronary angioplasty must be done to treat the blockage.
In the case of Hypertrophic Cardiomyopathy (HCM) some possible treatments include an AICD or implantable defibrillator and or a surgical myectomy.
​
Are There Preventative Steps Or Measures To Avoid Cardiac Arrest?
The best preventative measures for Sudden Cardiac Death are to control the cardiac risk factors such as blood pressure, diabetes, clot prevention, and antiarrhythmic medications.
What Are The Risks If SCD Is Left Untreated?
As noted earlier, the primary treatment of a VF is immediate defibrillation to save the patient's life. Most of the victims of SCD die before they get to the hospital. If you suspect an SCD, call 911 immediately. The first sign is usually fainting. You may also experience a loss of heartbeat or pulse. Some people experience a racing heartbeat or dizziness before they lose consciousness (faint). Chest pain, nausea, vomiting or shortness of breath are also symptoms in some people.
The most vital preventative measure of VF and SCD is getting proper screening on a regular basis and controlling the risk factors that lead to CAD and subsequent heart attacks.
Are There Other Related Conditions To Sudden Cardiac Death?
The most related condition to Sudden Cardiac Death is Coronary Artery Disease. According to a PubMed study 80% of Sudden Cardiac Death cases are caused by CAD. The remaining 20% are caused by cardiomyopathies.
Sudden Cardiac Death (SCD) is an unexpected death that occurs as a result of malfunctioning in the heart's electrical system. Death occurs within an hour of the onset of symptoms. Treatment must be implemented and performed immediately by CPR and AED Defibrillator. Coronary Artery Disease is considered to be the highest risk factor.