Do you have a heart condition? Wondering where to find a good cardiologist?
Are you worried that you're at risk of developing a cardiovascular disease and need a specialist to weigh in?
You are probably looking for a cardiology specialists. Learn about the different certifications that can lend to someone being the best cardiologist in New York.
How to Find the Best Cardiologist in New York
If you answered "Yes" to any of these questions, you're not alone. With one American dying every 40 seconds from a cardiovascular disease, the need for experienced cardiologists is growing. If you're looking to find the best cardiologist in NYC, this article will guide you on what to consider.
Who is a cardiologist?
A cardiologist is a medical doctor specializing in the study, prevention, and treatment of cardiovascular diseases (conditions or abnormalities related to the heart and blood vessels). In short, a cardiologist is a heart specialist.
Cardiologists receive special training on heart conditions, making them the only people qualified to offer a diagnosis and treatment. That's why your primary care provider will refer you to a cardiologist if they detect possible heart anomalies.
When do you need a cardiologist?
About 1 in every 4 deaths in the US is as a result of a cardiovascular condition. In fact, as of early 2017, heart disease remains the leading cause of death in the world and the US, emphasizing the need for regular heart check ups.
You should see a cardiologist as soon as possible if any of the following apply:
When your doctor recommends that you visit a heart specialist
If anyone in your family has had a heart condition. Family history increases the risk for heart diseases.
When your risk of developing a heart disease is high. Symptoms to look for include high blood pressure, high cholesterol, being a diabetic or preeclampsia for pregnant women.
If you are considering a strenuous exercise, especially at an older age.
When you notice your heart beating faster than usual.
You've had your first heart attack, however minor.
How do you choose the best cardiologist in NYC?
The heart is a very sensitive organ. Even a slight anomaly can lead to complicated breathing, being bedridden, or an untimely death.
That's why you need to deal with the best cardiologist you can find and afford for your diagnosis and treatment. It's the only way to guarantee a correct diagnosis and receive timely treatment.
If you're looking to find great cardiologists, here are 5 tips to consider:
1. Certification and professional affiliation
One of the most obvious indicators of professionalism is certification. When contemplating the right cardiologist, check if the person is board-certified to treat your condition. A professional New York cardiologist will be certified by the American Board of Internal Medicine (ABIM).
The ABIM certification ensures that practicing cardiologists meet specified educational, training, and professional requirements. Avoid "heart specialists" who lack this certification as they may not be fit to treat cardiovascular conditions. Also, pay attention to the exact specialization the cardiologist has. Just because they're certified doesn't necessarily mean they're the best choice for your condition.
Many cardiologists are Fellows of the American College of Cardiology (FACC). And few are also Fellows of the Society for Cardiovascular Angiography and Interventions (FSCAI). To identify these credentials, look for the FACC and FSCAI initials in their professional titles.
2. Current expertise
While a cardiologist may be board-certified, they may lack expertise if their daily practice is concerned with other conditions. You want to work with a specialist who tackles similar heart conditions to yours on a regular basis.
Make sure to ask any cardiologist you meet with the following questions:
How many similar cases have you dealt with?
How long have you practiced on your specific specialty?
What are some of the outcomes in the patients you've treated?
3. Location and Accessibility
Naturally, you'll also want to consider the cardiologist's location and how easy it will be for you to get to them. In a big city like New York, it may often be better to meet a cardiologist with their own practice rather than wait months to meet with a specialist at a large general hospital.
If possible, find an experienced, highly reviewed cardiologist near you or a clinic with several qualified cardiologists at your disposal. If you can eliminate long waits or unnecessary delays, go for it.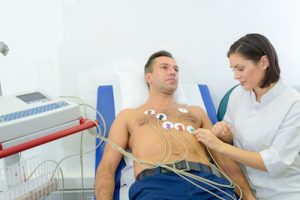 4. Ease of communication
Great communication skills should definitely be an item on your checklist. Look for a specialist who can listen with ease and communicate in a language you understand. Avoid specialists who do all the talking. The last thing you need is to suffer from white coat syndrome.
Treatment of a heart condition can mean a continuous and strenuous process in your life. You want to deal with someone who respects your position.
Also, see if the support staff for your ideal cardiologist is welcoming and friendly. The sensitivity of heart condition treatment requires a comfortable and nurturing environment.
5. Don't just look at online reviews
Before you read online reviews to decide on a cardiologist you're interested in seeing, consider the fact that many of these reviews could be biased. After all, a specialist without the right certifications can still have great ratings and reviews.
The best review is usually a recommendation from your personal doctor or word-of-mouth from regular clients.
Make the decision that's right for you
If you don't already have a referral from your personal physician or are considering a second opinion, now you know what to do. Use this checklist confidently to find the cardiologist that's right for you.