What Is A Coronary Calcium Scan?
A coronary calcium scan (also referred to as a heart scan) is a specialized diagnostic exam which provides x-ray images of the blood vessels of the heart. This test is performed to measure the buildup of calcified plaque in the arteries of the heart. A higher coronary calcium score may reflect a higher probability of coronary artery disease and a consequent higher risk of heart attack.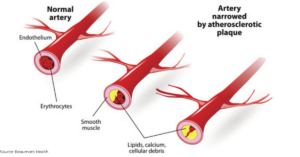 How do you prepare for a Coronary Calcium Scan?
No real preparation is required for a coronary calcium scan, but you should avoid nicotine and caffeine for a few hours prior to your appointment as these will have a short-term effect on your heart and skew test results.
Why is a Coronary Calcium Scan performed?
A coronary calcium scan is performed, sometimes in combination with other tests and diagnostic procedures, in order to give your doctor a more accurate picture of your risk of cardiac health issues. Getting a measure of the amount of plaque in your blood vessels can help inform your cardiovascular treatment plan and also make it possible for your doctor to spot the signs of coronary artery disease even without the presence of any noticeable symptoms
What can you expect during a Coronary Calcium Scan?
Once a doctor has recommended a coronary calcium scan and the necessary forms have been filled out, you will receive the exam itself at a radiology center. There is no IV and you are not required to fast before the test. The whole examination will take between 15 and 45 minutes depending on wait time.
What is the followup like for a Coronary Calcium Scan?
After receiving a coronary calcium scan, you will have a follow-up appointment with your cardiologist. The doctor will assess the data and explain your coronary calcium score (a number ranging from 0 to 400), then use this information to craft a treatment plan that will minimize your future risk of heart disease or other cardiovascular complications.
What are the potential risks for a Coronary Calcium Scan?
There is very little risk associated with a coronary calcium scan, which is far outweighed by the benefits of being able to diagnose potential heart issues early on. While a coronary calcium scan does involve some exposure to radiation, it is a very small dose – roughly the same amount you are naturally exposed to in a year – which is considered to be safe.
Are there related tests to a Coronary Calcium Scan?
A coronary calcium score may be used alongside other diagnostic procedures to determine your level of heart health with the utmost accuracy. Other tests which may be recommended include stress tests, echocardiogram, or ECG. In some cases, a coronary CT angiography or cardiac angiogram may be called for as well.